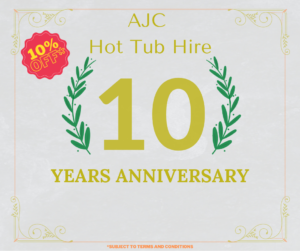 The hot tubs we offer for hire:
 We have three different models of rotationally moulded rigid portable hot tub available for hire/rental. We have hot tubs that seat up to 5 adults, 6 adults and 7 adults, all delivering an amazing hot tub experience. With bench seating, proper water jets with venturi air (the bubbles), underwater multi-colour changing L.E.D. light and more.
About hot tubs:
The hot tub's water will cool during use, factors like the outside temperature, if it's windy or if the hot tub has insulation or not can all impact on how long the hot tubs keep their heat. The hot tubs we hire are designed to be used all year round and have isolation.
Important stuff:
When looking for a company to hire a hot tub from, is how long it will take to re-heat. The water cools during use, so after your bathing session you will need to allow the water to re-heat. The re-heat time for our hot tubs is between 1.5 and 2 degrees per hour "all year round". Some hot tubs can take two or more days to get up to a usable temperature and many hours to re-heat. The hot tubs also come with an insulated lid designed to be used all year round that gives a faster water reheat time than the inflatable style bubble spas typically unsuitable for the colder months.
 The experience you get from a rigid 'proper' hot tub is by far superior to any inflatable, foam or kit assembled hot tub.
---
The Barcelona rigid hot tub seats up to 5 adults, more…


For specifications and pricing, please click on the image
---
The Quatrospa rigid hot tub seats up to 6 adults,
more…
---
The Antigua rigid hot tub seats up to 7 adults, more…


For specifications and pricing, please click on the image
---
3 m × 3 m gazebo available with any hot tub hire from £35 
more…
Water Chemistry and Safety
With many years working in the hot tub industry, we have the experience to instruct you on maintaining your water chemistry correctly. We also instruct you on how to use our hot tubs safely to ensure you, your family and friends are able to the hot tubs without worry. We are always available to give help and advice during your hire should you need any.
On delivery of the hot tub we position it, fill it with water, test and balance the chemicals to get you started.
To the right, you will see the list of what we provide along with the tub. We believe it is what is required for a safe and enjoyable hot tub hire experience.
What's in the kit:-
Test strips.
PH Increaser.
Chlorine Granules.
Floating dispenser loaded with slow release Chlorine tablets.
Small net (for fishing out debris from the water).
240v Earth Leakage R.C.D. Unit.
Chemical instructions and safety instructions.
Home